North Atlantic Right Whale Consortium


Awareness of the problems facing North Atlantic right whales and interest in using innovative research techniques, new technologies, and continued analyses of existing databases has increased significantly over the past ten years. This increased interest has necessitated better coordination and collaboration amongst all stakeholders to ensure that there is improved access to data, research efforts are not duplicative, and that findings are shared with all interested parties. The North Atlantic Right Whale Consortium, initially formed in 1986 by five research institutions to share data among themselves, was expanded in 1997 to address these needs.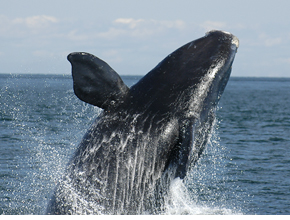 North Atlantic right whale breaching.
Currently, the Consortium membership is comprised of representatives from more than 100 research and conservation organizations, shipping, fishing, and whale watching industries, technical experts, Canadian and United States Government agencies, and provincial and state authorities dedicated to the conservation and recovery of the North Atlantic right whale.

The Consortium's mission is to significantly enhance the survival probability of right whales. To do this, the Consortium is committed to long-term research and management efforts to coordinate and integrate the wide variety of databases and research efforts related to right whales, and provide to relevant management groups the best scientific advice and recommendations on right whale conservation. The Consortium is also committed to incorporating new and updated methods in its research activities, reviewing the costs and benefits of right whale programs, providing up-to-date information on right whale biology and conservation to the public, and maintaining effective communication with Canadian and United States Government, Right Whale Recovery Implementation Teams, the United States Scientific Review Group, and members of Congress. The Consortium membership takes responsibility for ensuring continuity among the separate research programs under its umbrella, including acting as executor for database archives from private institutions with substantial holdings. Lastly, the Consortium is interested in maximizing the effectiveness of management measures to protect right whales, including using management models from other fields.


Staccato, died from a vessel collision in 1999.
The Consortium is governed by an Executive Committee and Board members elected by the general Consortium Membership. Board members are elected during the business meeting at the Annual Meeting and each position carries a three-year term of service.

By overseeing the right whale databases, providing data access to interested stakeholders, hosting annual information sharing meetings, and facilitating management and research collaboration, the North Atlantic Right Whale Consortium serves to directly and tangibly aid in the recovery of the North Atlantic right whale population. The Consortium is internationally recognized for its efforts and has been identified as a model for establishing other species-related consortia.