Photo Identification Catalogue


Photo-identification is the process of using photographs of right whales to record their natural markings and distinguish one whale from another. This non-invasive technique is the foundation of most modern whale studies and continues to be an acceptable technique to monitor these endangered creatures.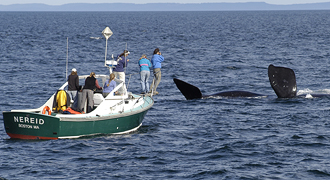 Researchers photographing right whales in the
Bay of Fundy.
Right whales have physical characteristics that are unique to each individual such as their callosity pattern and distinctive scars 1. The technique for identifying individual right whales was pioneered in the 1970s on South Atlantic right whales. Similarly, in the North Atlantic, researchers take photographs of the distinguishing features and compare them to photographs in the North Atlantic Right Whale Catalogue 2 to determine when and where that individual was previously seen. Since these photographs are collected during surveys of different areas over time, researchers are able to monitor population demographics, migrations, mortality, reproductive success, ocean habitat use patterns, and assess trends in health and rates of human-caused scarring. These data can be used to discern species-wide problems, develop recovery strategies, and evaluate the effect of management and conservation efforts.

In order to identify the individual, pictures of both the left and right side of the head are taken.
The North Atlantic Right Whale Catalogue, curated at the New England Aquarium in Boston, Massachusetts, is one of the most extensive datasets of sightings and photographs on a given species in the marine mammal field. The photographic catalogue contains more than 30,000 sightings of over 500 individuals photographed from 1935 to the present. Some of these whales are known to have died; others haven't been seen for many years and are assumed to have died. In 2007, the living population is estimated to number about 400 whales.
This image is an example of North Atlantic right whale
photo identification being done on a computer screen
using the software matching program DIGITS.
The catalogue has been cited in many publications and the compiled sighting and behavioural data have been used to provide the biological justification for important management and stewardship measures in both Canada and the United States. One example on how the data have been used in Canadian waters is the relocation of the Bay of Fundy Traffic Separation Scheme to reduce the potential for vessel and right whale interactions.

A database of eastern Canadian marine mammal sightings, including North Atlantic right whales, is curated at the St. Andrews Biological Station, Fisheries and Oceans Canada. This dataset includes many opportunistic sightings of right whales seen by fishery observers on fishing vessels, crew members on commercial vessels and ferries and operators of recreational vessels.





1 Kraus, S. D., K. E. Moore, C. E. Price, M. J. Crone, W. A. Watkins, H. E. Winn, and J. H. Prescott. 1986. The use of photographs to identify individual North Atlantic right whales (Eubalaena glacialis). Report of the International Whaling Commission Special Issue 10:145-151.

2 Hamilton, P. K., and S. M. Martin. 1999. A Catalogue of Identified Right Whales from the North Atlantic: 1935-1997. New England Aquarium, Boston.